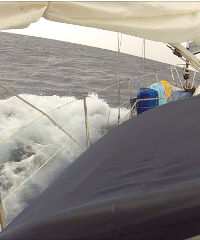 Yacht Deliveries
Do you need you boat moving or delivering, but don't have the time to do it?
I have lots of experience of sailing short and long distances, and would love to help you out..
Many delivery companies are focussed purely on speed, getting your boat to its destination regardless of conditions. I take a different approach, and will plan the passage with due consideration of conditions at the time. This might mean your boat arrives a few days later than it might have, but it will arrive in good condition, clean, and tiday. In short, I will look after your boat as if it were my own!
I'm a fully qualified offshore yachtmaster with experience of:
Coastal Sailing
Pilotage
Ocean Crossings
As a more mature skipper I will treat your yacht with respect, and take the time to do the job properly, and in a professional manner.
For more details please use the contact page to give me some detail of your requirements, and I will reply as soon as possible