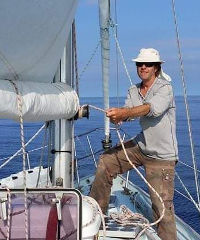 Skippering
Using a skipper can take the pressure off your sailing. If you're relatively inexperienced, or haven't sailed for a while, or perhaps are thinking of undertaking a passage out of your comfort zone, then having a knowledgeable skipper can be the best solution.
I can take the pressure off your project with:
Passage planning
Provisioning plan
Boat preparation
Itineraray
Advice on watch system and boat safety at sea
Etc..
I will take care of the technical side of sailing the boat, including deploying the sails efficiently for whatever the sea and wind conditions, and point of sail are; navigating and piloting the boat, and getting in and out of harour or anchorages efficiently. You are of course welcome to partake in any aspects of the process that you'd like to, helming, line handling, anchoring, etc; but if you want to take it very easy I can provide further crew to make this possible.